Welcome to Counseling
The Fullerton College Counseling and Student Development Division provides services for students through the Counseling Center, the Counseling Resource Center, the Career and Life Planning Center, the Cadena/Transfer Center, the Assessment Center, Disability Support Services and the Veterans Resource Center. In addition, the division provides student development courses in College Study Skills, Career Development and Educational Planning.
The center also provides online counseling. This is a web based email service through the Fullerton College website for students to ask general counseling questions. This service is not intended to take the place of our in-person appointments, but rather as a resource for general questions.
The Counseling Center offers new, continuing and returning students individual appointments with counseling faculty to:
Assist students in appropriate selection of math, English and basic skills courses
Assist students in clarifying their career goals
Assist students in preparing a Student Educational Planning Program (SEPP), which meets the requirements for college majors, career preparation and transfer to four-year colleges and universities
Assist students in resolving concerns about life management issues
Provide information on college policies and regulations
Provide orientation and new student group advising
Provide students with information on transfer, major preparation, and general education requirements
Provide students with unofficial progress checks for certificates, associate degrees and transfer requirements
Provide unofficial evaluations of other college transcripts
Provide walk-in General Information (GI) counseling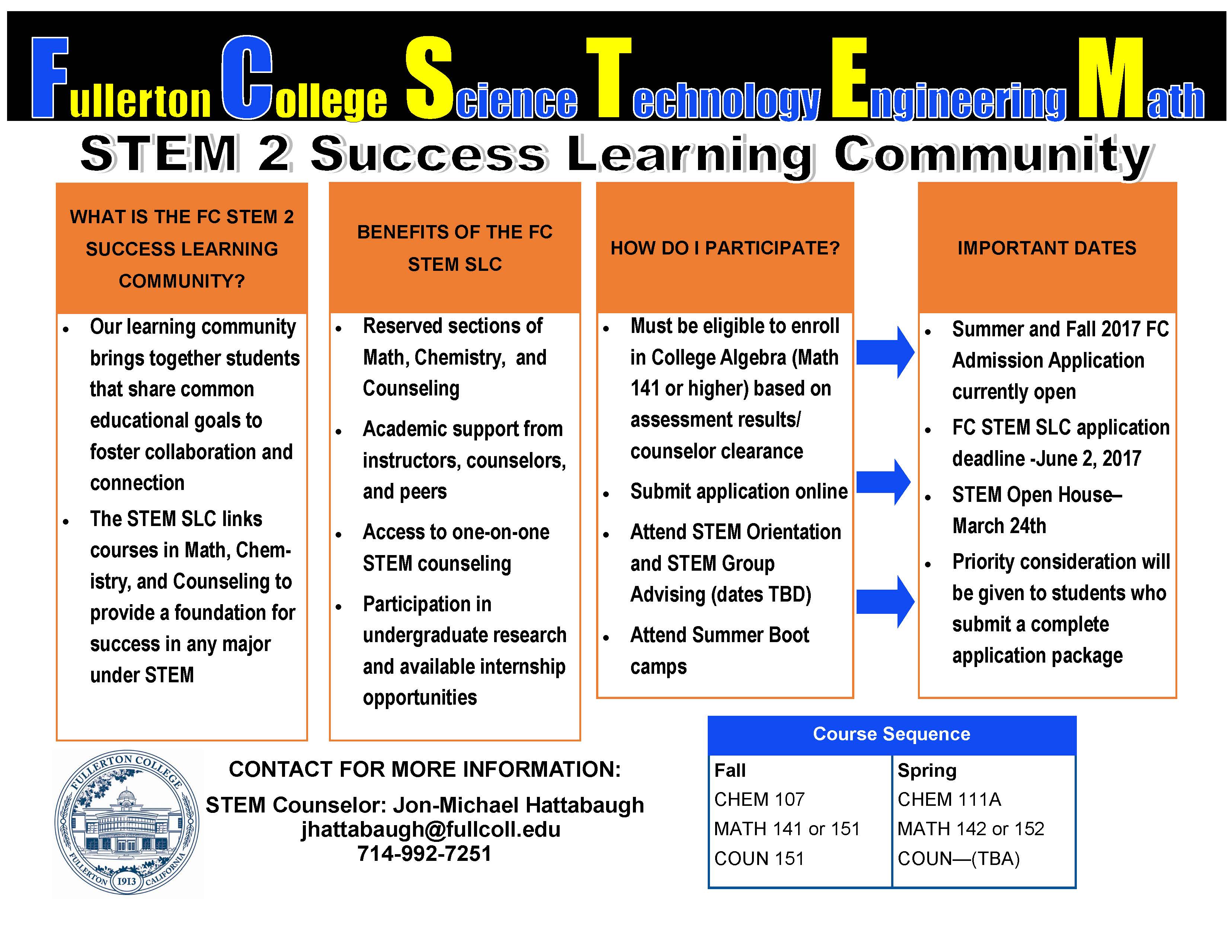 Fullerton College's STEM 2 Success Learning Community is for new students (Summer/Fall 2017) who are looking to pursue a STEM (Science, Technology, Engineering, and Mathematics) related major and want to do so in a supportive learning environment. If interested or for any questions, please fill out the application below and email our STEM counselor, Jon-Michael Hattabaugh (jhattabaugh@fullcoll.edu)."
---
Take this survey and let us know
---
Counseling Center Hours
(subject to change)
| | |
| --- | --- |
| Monday | 7:45 am – 5:00 pm |
| Tuesday | 7:45 am – 7:00 pm (extended hours) |
| Wednesday | 7:45 am – 5:00 pm |
| Thursday | 7:45 am – 5:00 pm |
| Friday# | 7:45 am – 5:00 pm |
| Saturday# | 9:00 am – 1:00 pm (click here for dates) |
|  #Closed Fri.  and Sat. during summer | |
---
Counseling Center Contact
321 E. Chapman Ave. 2000 Building, 2nd Floor Fullerton, CA 92832 Phone (714) 992-7084 Fax (714) 992-9917